GREAT NEWS! The first Barnabas Volunteers are scheduled to arrive mid-October–our final "green light" to open Eagles Wings doors. Gary and Pat Ormiston from Republic, Washington are seasoned laborers in Kingdom work. We look forward to welcoming them to Naukati.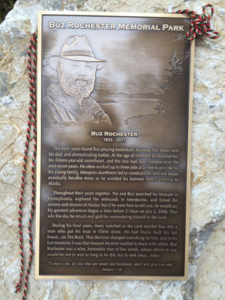 ANOTHER FIRST The Labor Day dedication of the Buz Rochester Memorial Park on Eagles Wings land was a joyful celebration. The park will be constructed in part by Eagles clients providing opportunities to gain an array of work skills. When completed, the boardwalk path through old growth rainforest will include a gazebo and will be the only park in Naukati.
UPDATE Great progress was made on Myrn's House this summer, despite cancelation of work teams due to covid travel restrictions. Electricity and plumbing have been installed, a back porch and steps built and beautiful cedar siding. Now that its all dried in, sheetrock walls and floors need completion.
SERVICES  Eagles Wings Ministries is dedicated to providing quality recovery services that are affordable and accessible to everyone. No one will be turned away due to inability to pay. In order to keep costs to a minimum, we are trusting God to provide for this ministry through you, following God in his God-sized project.
Barnabas Volunteers provide mentoring, discipleship, accountability and safety
Life Skills coaching will be provided by a committed and trained team of volunteers from the Naukati Church recovery community
Counseling will be provided via online delivery by a licensed Christian Counselor
THE FIRST RESIDENCE IS SCHEDULED TO OPEN EARLY NOVEMBER FOR 2 WOMEN
Women who are ready to seek freedom from addiction come to us through referrals from their pastor or church
Please contact us for referral packets
YOU CAN HELP
Prayer is the most vital action
Regular Monthly Financial Commitment for services and personnel
Work teams needed for interior and exterior construction